LIBRARY
SADHANA – THE PATH OF YOGA

Welcome to this stage of your journey through this life.

Yoga is often seen as primarily a physical form of gentle exercise, whose aim is to develop health and fitness.. One of the first realisations of the yoga student is that this is far from the truth. Yoga is life enhancing, life changing and eventually life transforming. Along the way the student (sadhaka - male, sadhika – female), experiences life in all its forms through the physical body and its senses. Our physical senses of hearing, smell, taste, sight, touch and awareness of position are the starting point of one aspect of that journey. The mind is another, operating on the conscious and the subconscious levels it is initially tied to the experiences of the physical body, giving rise to the concept of Me and the ego. It is through the mind however that knowledge of the Self can be experienced on a spiritual level. With the development of the inner eye the sadhaka can realise the I of the Self and understand the mantram – I am That.

Yoga approaches life on all levels. It is as important to be aware of the moral and practical aspects of the way we live, as it is to strive to live a `spiritual` life. Sometimes it is necessary to undergo hardship and personal denial, forms of asceticism, called tapas, to focus and further our progress. Essential at all stages along the way is study(svadhyaya); of our physical and mental actions, their implications and limitations, and the opportunities which present themselves for our learning and development, and the wider spiritual learning we can absorb through reading, satsang (meeting with persons for spiritual upliftment, )and self study through meditation.

In tradition the sadhaka will be drawn to a guru, a spiritual teacher who can help him/her. Through our life we may have more than one guru, of differing values and significance. Our mother is said to be our first guru, and then our father and any other persons who begin to develop and encourage our spiritual development. For the fortunate there may appear somewhere along life`s way, the sadguru (the true guru), who is himself spiritually enlightened, and who will remain your guru for life.

In the meantime it is incumbent on us all to strive to find that spiritual path which will be appropriate for us as individuals, through our own practice and study.

Feel free to contact me to discuss this subject further (Details on Home page).

Sadhana - the way of the pilgrim

It is generally recognised that we are all on the road to somewhere, even if that is only an ultimate end in death. In yoga we have a more positive aim. For yogins (m) and yoginis (f), the road is intended to lead to union with the Divine, God, or the creative force.

The term `sadhana` means simply, the ways and means by which we achieve that goal of union. Generally sadhana is the spiritual path we take which leads to the achievement of siddhi (perfection).

In Hindu terms the word `dharma` implies the ethics of virtue which should govern our lives, and is described in some writings as the means by which we can achieve the state of union. However yogins (and yoginis), in the Mahabharata are urged to `abandon dharma and adharma (vice)`. By doing so, and even abandoning the principle of abandonment, the yogi is told he can find liberation, and thence the way to union with the Divine.

Someone who has made the deliberate choice to follow that spiritual path is known as a `sadhu`. As with entry into the priesthood, there is usually a form of initiation giving recognition of the determination of the initiate to devote their life to their sadhana. While there is no necessity for a sadhu to be a practitioner of yoga, the two often go together. Implicit in this decision is the adoption of a way of life involving renunciation, religious discipline, celibacy, meditation and various tapas (austerities). In India there is the ancient tradition of the wandering sadhu with no belongings other than the needs of a beggar. In the west we have our own monastic orders although the hermit of old no longer exists.

Patanjali listed the 8 limbs, or steps of yoga, which had been taught for long before his writing. Beginning with the moral and personal disciplines, going on to physical aspects, and control of the mind, leading to the experience of bliss `samadhi`, these eight steps describe in essence the way of sadhana - the pilgrimage.

The yamas stressing non-violence (ahimsa), truthfulness (satya), not stealing (asetya), chastity and avoiding self indulgence (bramacarya), moderation and non-greed (aparigraha), take us straight to the heart of our own sadhana.

Patanjali lists five niyamas, modes of personal conduct - purity (saucha), contentment (santosa), asceticism (tapas), study of the sciptures (svadhyaya), and devotion to your God (ishvara-pranihana). Other writings add others taking the number up to ten or twelve niyamas. The extra ones include repetition of mantra (japa), sacrifice (homa), silence (mauna), worship (arcana), and pilgrimage (tirtha-atana).

It is interesting that the third and forth limbs – the asanas and pranayama – receive an overwhelming degree of attention in some quarters and almost complete dismissal in others. In fact either extreme misses the point of the asanas. There is the obvious benefit of improved health, but with mental awareness of the process of bodily use and breathing technique develops the next stage of yoga – pratyahara.

In pratyahara the yogi begins to turn his/her focus inwards, gradually turning the physical senses of sight, hearing, smell and taste, and touch/proprioception inwards. This stage continues the inward pilgrimage to Self Realisation.

Withdrawing the senses allows the development of concentration and focusing of the mind – Dharana.

Dhyana – meditation – like the practise of asanas can become a sticking point on the road of sadhana. Practitioners of meditation can become fixated on the techniques used and fail to realise that these are again only tools leading to the final goal of Samadhi.
A compilation of articles, published in various journals and magazines, together with notes used in the presentation of teaching topics which form part of the Yoga-Sadhana Course

​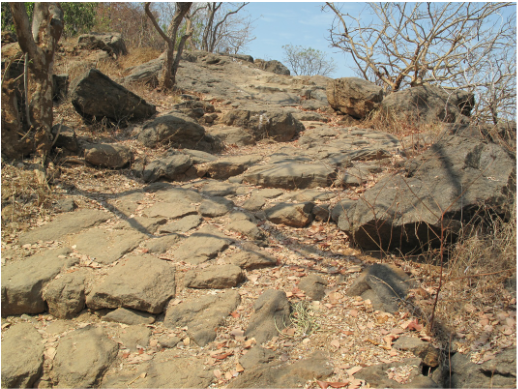 ---
Creating your SACRED SPACE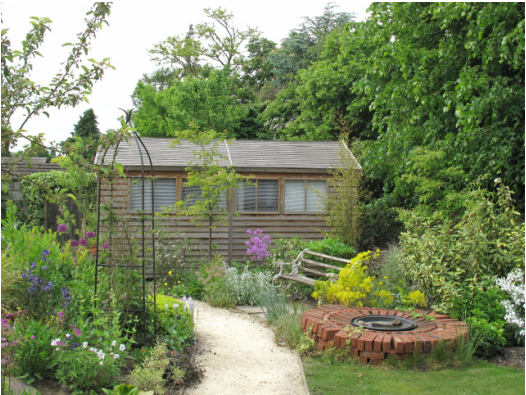 When we speak of `sacred` we do not restrict that to a religious context. Your sacred space is that environment which you create around yourself, and in which you can focus on your yoga. That space may be a designated room or area out of doors. It might simply have to be the area in which you can lay down your mat, wherever you are at the time.

The Bhagavad Gita gives us a little guidance, telling us in Chapter 6, to find a place that is quiet and clean or pure, with a seat that is comfortable (neither too high nor too low) and sit on a mat, or kusha grass or an animal skin. The Gheranda-Samhita suppies some details for the placing and construction of the yogi`s hermitage or kutira. It should be in a good location, an area free of conflict. Within the enclosure should be a well or pond. The hut should be smeared with cow dung, to be free of insects, and be neither too high nor too low. The Hatha-Yoga -Pradipika suggests the hut should have no windows, and only a small door. The yogins dwelling can also be called mandira

Ideally our sense of yoga is not something which is restricted to the time that we are doing our exercises, pranayama or meditation. It is ALL the time we live. Then it becomes interesting, and important to think about HOW we live generally, our home and work environment, and even the choices we make as to where we spend our leisure time. In fact we will find that the basic elements are common to all.

The place: The Gita tells us to find a place that is away from the noises and distractions of ordinary life. Not easy in today`s world. In ancient times the yogi would leave places of habitation and go into the forest to live. At home a room where you will be undisturbed, even a shed in the garden, can be your place. It may be that you have to settle for just using a particular part of a room, sharing it with the rest of the family and the TV. Even then it is possible to make it sacred.

Although many of us now live in urban areas it is still possible to create small spaces in the garden where we are not overlooked, or get out of town and find a secluded woodland clearing, or patch of waste land, where you will be undisturbed. As a boy growing up in Derbyshire I would cycle up into the Peak District, and found such a place which became my hideaway, where I could read for hours on end as I lay in the sun.

The air we breath. Wherever we are we breath. With each breath we take in the negative and positive ions in the air, the perfumes, pollutants, smoke and dust in the atmosphere. The air is richest in negative ions (the good ones) where the air is moving in the wind, and by running or falling water, streams waterfalls and the edge of the sea. Positive ions (the bad ones), the ions which cause us to feel tired and under par, become prevelant where the air is static, both outdoors and inside, and loaded with other pollutants. Even in the villages of the high Himalayas the air is often acrid with the stench of diesel fumes and wood smoke. That pollution is obvious. Less obvious is the air in many modern offices and workplaces, and homes, where chemical pollutants are released by plastics and other materials.

Even if we go out of doors we may still be exposed to petrol and diesel fumes from nearby roads, central heating boilers and other sources. In the end we have to compromise and find what is the best available, and where possible improve the air as much as we can, perhaps using ionisers which can be bought quite easily. They are designed to emit negative ions into the atmosphere in front of them. Have an open window if posible, or good ventilation, but remember that it is important to keep the space comfortably, and safely, warm

Temperature: A room which is too hot or cold is not conducive to comfortable pratice or meditation. Radiant heat may be more comfortable than convected heat. The important factor is the ambient temperature: the feel of the room in relation to that outside. It should be comfortable enough to practise your exercises naked, throwing a blanket or cover over your body for relaxation or meditation. Avoid being in open intense sunlight for prolonged yoga practice. It is tiring.

The surface: The Gita simply says your space should be clean. If you have a designated room, then keeping it clean will be a part of your karma (the yoga of action duty and work) yoga sadhana (the path of life leading to `realisation`). Always sweep or clean your sacred space. In public places that might include clearing cigarette ends and other rubbish from around your area. For yoga asanas the floor needs to be firm and level. It may seem romantic to do your yoga on the edge of the sea, until you discover how the tide pulls the sand from under your feet. Tussocky grass, sharp stones and of course slopes all have their own problems.

To begin with creating your sacred space may be just a practical way of preparing a place where you can most effectively practice your yoga exercises. In time it will become unthinkable to try doing your yoga without those preparations. As that habit becomes ingrained it is likely that you will begin to extend that attitude more widely. You will begin to adopt the same standards in your home, workplace and community. Feng Shui is well known, the Indian alternative - Vaastu - less so. Both are concerned with the practical ways in which we can adapt our external environment for our benefit. Perhaps even more importantly you will begin to be aware of the inner changes which are taking place, how you view your body, and how you care for that.

There is a phrase from the ancient yoga writings - The Upanishads- which states: `What you see, you become`. The space around you might indeed mirror your inner state. Create order, balance, simplicity tidiness, cleanliness and beauty in the world around you, and you will find it being created within yourself.


---
​ASANAS - stretching into the positions of yoga
In yoga there is much emphasis on `stretching` the body while holding positions/postures – asanas.

An ASANA is a position or held position. Originally it usually meant a sitting position on a mat or seat, and ancient yogis often used tiger skins on low wooden stools or platforms. The number of recognised classical asanas is relatively small and most were related to sitting positions used for meditation. Today there are a few dozen which are recognised as important, but there are literally thousands of variations.

When we speak of stretching we need to be aware of the ways in which the body can move. There is no need for knowledge of detailed anantomy. We all know that the spine, including the neck, can move forwards, backwards, and bend and twist from side to side. The shoulders and the hips can rotate, like the wrists and ankles. Other joints such as the elbows, knees, fingers and toes are generally restricted to simple movement in one plane, with only very limited other movements. We must respect what the joints are designed to do. However we must also recognise that with lack of use joints may stiffen. This may be the result of injury, or disease for which we must seek medical advice. Stiffness is not necessarily a sign of old age: it is often a sign of lack of use, or incorrect use of the joint.

When we stretch, or contract, we affect three main tissues – the muscle cells, the tendons and the ligaments.

Ligaments join the bones together and are the toughest of the three, with relatively little ability to stretch. It is very important to be very aware of your own limits, especially when bending those joints which are universally potential problem points – the knees, the low back and the neck. Never force movement by jerking or bouncing (except in some very limited exercises). Ligaments stabilise the joints they connect, so are naturally like tight elastic. Over stretching can leave the joints weakened and open to injury. However it is also important to keep full natural movement. To liberate tight ligaments it may be necessary to hold asanas for over a minute.

Tendons join the muscles to the bones. As we age there is a natural tendency for the tendons to harden and become less flexible. Again it is essential to find the balance between stretching too much and too little. An important side effect of stressing (stretching) the tendons through muscular contraction is that they pull more firmly on the bones they are attached to, causing the bone to resist by becoming stronger and more dense, and thereby helping to prevent or slow the development of osteoporosis. Tendons which are used to being stretched are less likely to tear in accidents.

Muscle tissue appears to be so soft that stretching should be easy, but again with lack of use muscle tissue will shorten and tighten. Fortunately for older people muscle tissue can be retrained to stretch even when the tendons are tightening. It is important that this stretching is regained or maintained alongside strengthening exercises. As always in the body it is a case of use it or lose it. Stretching is a part of the essential working of the muscle cells along with contraction, needed to maintain muscle tone and size throughout life. Injury to muscle tissue which is not treated through a correct programme of physiotherapy, including stretching, can lead to the development of fibrositis and other problems. To stretch tendons and muscles asanas should be held for not les than ten seconds.

With practice and experience you will begin to find specific asanas which are beneficial to individual muscles or body part. This one of the lessons of yoga, learning to become aware of your body by using your mind. Being left or right handed tends to throw our body out of balance. Where one side is `tighter` than the other it may be appropriate to hold an asana for a little longer than the looser side, but never exercise one side only. Excessive use of joints through sport or work, the postural habits acquired through our genes, upbringing or life`s stresses can lead to the development of fibrositis, arthritis and other problems, and play havoc with the ways our bodies move. Almost all physical imbalances create a response in the spine, so pay particular attention there. We are told that we are as young as our spine is flexible.

We should also remember that ligaments, tendons and muscles always work together, to support, permit flexible movement, and stabilise or balance the body. Stretching usually involves the contraction and strengthening of opposite muscles, which along with developing stamina by prolonged muscle use form the 3 Ss – stretch, strength and stamina. All can be developed through correct yoga exercise.

CAUTION If you have any concerns about your health including unexplained aches or pains in joints or muscles consult your doctor or a qualified physiotherapist.

PLANNING Try to include exercises which use both sides of the body, and all the joints. Work to your natural limit of stiffness. With time and practice you will find that those limits may well be extended, but do not force the progress. While feeling a good stretch, you should not feel pain. If you do, try not to collapse out of a posture, but ease back until it is comfortable and come out of the posture in the reverse order to how you got there in the first place.

​Enjoy using your body to its fullest extent. Do not be afraid of it, bodies are amazingly tough things – just think what you have already thrown at it so far in your life.